Martha Elenor Erwin Seidel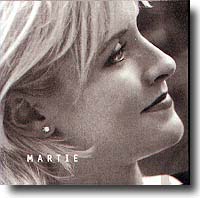 Chick Born On October 12, 1969 (Libra) in York, PA
Hometown Dallas, TX
Hair Color Blonde, worn short
Eye Color Greenish/Blue
Height 5 ft. 7 in.
Previous Occupation Ice cream parlor
Earlier Band Blue Night Express
Opry Debut in 1991
Parents Paul Erwin and Barbera Trask (Step-dad, Farrel)
Siblings 2 sisters, Julia (older) and Emily (younger)
Husband divorced, Ted Seidel
Sports played soccer in high school
Right Or Left? She's left handed
Pet Peeve hates coffee breath
Hobbies/Interests skiing, horseback riding, golfing
Fave
Actress: Meg Ryan ("She's just so cute!")
Fashion: she hates wearing sleeves
Fast Food: Taco Bell
Influences: Tim O'Brien, Mark O'Connor, Eddy Stubbs, Sam Bush, Joe Venuti, Alison Krauss
Movies: Terms Of Endearment, Phenomenon, Austin Powers, When Harry Met Sally, The Color Purple, The Wizard of Oz
Performers: Bonnie Raitt, Loretta Lynn, and Tammy Wynette
Info
Martie is a championship-level fiddle player who started at the age of five years old. She also plays the mandolin and she and sister Emily would practice everyday, watching only a little television. In school, Martie was in orchestra. Martie and Emily toured the country together in a teens bluegrass group for six years before helping to found Dixie Chicks. They both were playing acoustic instruments before their teens. Martie tries to work out regulary out on the road. She has an elastic exercise band.
Did You Know?
* Martie once wore Neal McCoy's tighty-whities in a music video...
* Martie once spilled hot coffee on Bill Anderson and he said "Ouch" to her...
* Martie has been a fan of Hockey way before coming to Nashville...
* In their McDonald's commerical for McRibs, Martie was a vegetarian and spit out bites of the sandwich between takes...
* In school, Martie was known for her VW bug...