Emily Burns Erwin Robison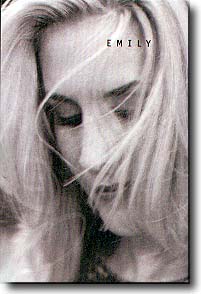 D.O.B: August 16, 1972 (Leo)
Birthplace & Hometown: Pittsfield, MA ~ Dallas, TX
Previous Occupation: Hostess in a restaurant
Earlier Band: Blue Night Express
Education: Greenhill High School
Hair Color: blonde (dyed in brown now!)
Eye Color: Hazel
Height & Shoe Size: 5 ft. 8 in. & size 10
Parents: Paul Erwin & Barbera Trask (step-dad Farrel)
Siblings: 2 older sisters, Julia and Martie
Husband: Charlie Robison (May 1, 1999)
Instruments: Dobro, Banjo, Guitar, Acoustic Bass
Pets: dog named "Big Fat Cat"
Sports: played soccer and and softball in high school
Right or Left?: She's right handed
Childhood Crush: Rick Springfield
Pet Peeve: Bad drivers
Hobbies/Interests: loves to hear to live music - especially country acts
Faves
Actor: Tommy Lee Jones
Fashion: Likes long skirts
Influences: Bela Fleck, Emmylou Harris, Glen Campbell, Jerry Douglass, Dolly Parton, Boston, Merle Haggard and Shawn Colvin
Instrument: Banjo
Midnight Snack: Cold cereal
Movie(s): Christmas Story, Dumb & Dumber, Color Purple, Giant, Mask
Performer(s): Faith Hill
T.V Show: Ally McBeal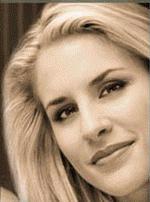 Info
Emily began playing violin at age 7, then banjo at age 10, with dobro, mandolin and other acoustic instruments to follow. In school, Emily played in the orchestra, she was known as an "Orch Dork". Emily and Martie toured the country together in a teen's bluegrass group for six years before helping to found Dixie Chicks. Emily once tried out for "Hee Haw" so she can play her banjo, but she didn't get the part. When you're out on the road, you try to stay in shape in any way you can. Emily heads out in nature and runs, making sure no one sees her. :)
Emily learned to play the banjo by teaching herself the chord progessions by reading the books. A bunch of years later, look at her now! :)
As the Chick famed for picking tunes on banjo and Dobro, Emily says, "If I'm working out a new part on an instrument to play onstage that day, I always practice one time or three - never twice. I think it's bad luck."
Emily's 11th grade teacher:
"She was an excellent student," said Ms. Eagles. "She was truly gifted as a reader and writer. In class she was reflective; when she said something you could tell that she had thought carefully about it."
"She wanted to go the Air Force Academy," said Ms. Eagles, "But it was impossible to do both so she applied to Davidson (a college in North Carolina.) She had to turn in her final paper on Hamlet late because she was traveling; however, it was excellent. She wanted it to be good."
Did You Know?
* That Emily is a regular Michael Jackson wannabe and can moonwalk forwards and backwards with a turn..
* That Emily wanted to be in The Air Force Academy and even filled out applications until she relized her math and science grades weren't good enough...
* She's good at steering so she drove the pink RV...
* Emily's teeth were on the cover of The New York Times...
* Emily fought over a crab puff at a party with Johnny Cash...
* Emily wrote the majority of You Were Mine, Martie wrote the bridge...
* Emily co-wrote "Please Be San Antone" on Jim Lauderdale's "Onward Through It All" album ...
* Emily's senior page says she was the "Queen Procrastinator." Former students recognized her as "famous"...
* Emily and Charlie have a ranch down in Texas and take care of their animals...