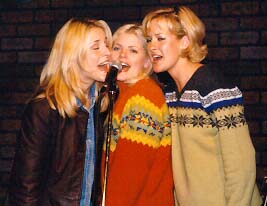 Describing the Dixie Chicks as a country music band is like calling Dolly Parton a singer, Roy Rogers a cowboy, or Ross Perot a millionaire. It doesn't come close to conveying the true essence of this dynamic trio.
The Dixie Chicks (lead vocalist Natalie Maines; award winning fiddler Martie Seidel; and dobro/banjo/guitarist Emily Erwin) represent a refreshing blend of powerful harmonies, distinctive instrumental abilities, and good ol' (as well as great new) country music.
But the Dixie Chicks are much more than just great music!! They are young, talented, and full of energy that transcends into everything they do.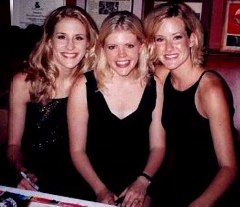 Martie has played violin since the age of five and has been recognized in many national fiddle competitions; Emily has been playing various instruments professionally since the age of 12; and Natalie, a Lubbock, Texas native and daughter of world renowned steel guitarist, Lloyd Maines, is vocally carrying the legacy of West Texas music into its next generation. When you experience Natalie's talent, you will understand why she was awarded a vocal scholarship from Berkelee School of Music in 1994. When sisters Martie and Emily join in with harmony, it is truly magical.

However, the real magic happens when this trio hits the stage. The Chicks deliver the music that start toes tappin', hearts beatin', and the dance floor movin'.
The Chicks remain as bright eyed, entertaining and approachable as when they first debuted on a Dallas street corner in 1989. As their repertoire and fan base have grown, so has their musicianship and ability to captivate audiences.
They have that hard to identify quality (call it magnetism or charisma) exuded by entertainers who genuinely enjoy what they are doing and others tend to get caught up in their enthusiasm. Press and concert promoters, as well as fans of all ages, have picked up on the band's distinctive style. The Dixie Chicks have been voted the Best Country Band in Dallas at the Observer Music Awards for four years in a row.
This in-demand band performs year round and world-wide. Their more notable appearances include tours of six countries; the 1993 Presidential Inaugural Gala; the Grand Ole Opry; a Dallas Cowboy's halftime show during the Monday Night Football telecast; Nashville's Summer Lights Festival; The National Cowgirl Hall Of Fame; Michael Martin Murphey's West Fest; Dollywood Sunset Music Festival; State Fairs of Texas, New Mexico, Minnesota, and California; and the American Royal Stockshow and Rodeo. The Dixie Chicks have also appeared on such nationally televised programs as Nashville Now, Music City Tonight, American Music Shop, Texas Connection, and Garrison Keillor's American Radio Show.

In 1990 the Dixie Chicks debuted their first CD Thank Heavens for Dale Evans. The Dixie Chicks at that time consisted of Martie and Emily plus Laura Lynch and Robin Lynn Macy. Their first album had many songs either written\co-written\arranged by one of the members of the Dixie Chicks. They won also won the Best Band prize at Telluride Bluegrass Festival. During that year they opened for Garth, Reba, George Strait, and Emmylou Harris. The next year they were named Best Country Band by The Dallas Observer which they would also wonn in '92, '93, and '94. They also had their debut appearences on The Grand Ole Opry and on TNN's Nashville Now. In 1991, they also had a jingle for McDonald's. They were also a feature article in Elle that year. In 1992 they release their 2nd Independent CD Little Ol Cowgirl. They also appeared on the Dallas Cowboy halftime show, once again on TNN, and at the New Mexico state fair that year. Around this time they parted ways with Robin Lynn Macy. In 1993 the three Chicks released their third independent CD Shouldn't a Told You That. They performed at the President's Inaguration, Dollywood, Nashville's Summer Lights Festival, and at West Fest. Laura Lynch parted ways with the group after their 3rd CD. Then, the Dixie Chicks found Natalie, and she joined the band. She was introduced to Emily and Martie through her father who had produced previous Chick albums like Thank Heavens for Dale Evans. In 1996 they are signed by Sony Music. 1997, they had their first video "I Can Love You Better." In 1998 they released their first major label album has already reached Platinum status "Wide Open Spaces" and their second single "There's Your Trouble" reached #1 on the Billboard chart! In 1998 they also performed Tammy Wynette's "Stand By Your Man" on the ACMs. In 1998, the Dixie Chicks also performed on a traditional country compilation album singing "Stand By Your Man". They were nominated for two CMA's (the Horizon Award and Group of the Year.) They won both of those CMA's making them one of the big winners of the night! In 1998, their album went triple platinum and "Wide Open Spaces" (their 3rd Single) reached #1 on the Billboard Top Country Singles Album and stayed there for 4 BIG WEEKS! Plus, the Dixie Chicks were the first country band in 13 years (Alabama was the last) to make the top 10 of the Billboard Top 200 Album chart! In March 1999, the Chicks won 2 Grammys! They won for best Country Duo or Group with Vocals, and for Best Country Album! They also won 3 ACM awards including Album of the Year!