There's a very interesting article about "Earl" at
http://www.mercurycenter.com/justgo/news/docs/dixie.htm

Patty Booker, singer "The Dixie Chicks' Fly CD. My favorite song, 'Good-Bye Earle,' is about two best friends who finally take care of an abusive husband. I don't usually listen to pop country, but Ms. Browne said they were good, and she was right again." - OC Weekly (just thought it was cool, hehe)

After the hectic pace of two back-to-back best selling
albums The Dixie Chicks are taking time off for a
little R & R. Not that their Rest and Relaxation is
like anyone else's. Natalie says she'll use her time
off to learn French, take cooking lessons and try to
improve her Yoga ability. Martie says she'll be
practicing her guitar and mandolin, while sister
Emily will be working on her new house. So much for
kicking back. (Country 105)

The Chicks have a small article in the new Star magazine. It says that the girls are opening up a hotel in Branson soon and there are also false rumors of a wedding.

CONGRATS MARTIE & EMILY! Martie is nominated for top fiddle performance and Emily in the specialty insturment field for the ACM awards!

Goodbye Earl premieres on Canada's CMT this week

I just found this website that has tons of country music video's online
http://www.vidnet.com/cgi-bin/music/music_genre.pl?c
And a couple might interest you, "You Were Mine" and "There's Your Trouble" are both in there. Check it out.

Check out
http://launch.com/Features/fs_Start/?contentType=NEWS&contentld=5855
It's an article on the Chicks which says that "the trio will make a formal announcement about its endeavors with the World Wildlife Fund on March 31."
I assume tour dates will be announced that day too.

Check out what CountryCool.com has in one of their auctions:
A motorized, 6-foot-tall promotional Dixie Chicks stand-up, autographed by
the Chicks
http://www.countrycool.com/fcgi-bin/stjude.cgi?keey&953158200

There's a pretty interesting new rumor going 'round - particularly on Nici's DC message board. Apparently, the Chicks are in negotiations with a new female madolin player/multi-instrumentalist they're trying to get to join 'em.
The guy who wrote this also said that he heard that Emily was thinking of quitting the band & starting a family. I personally don't care if they add another member, be it a mandolin player, a tuba player, or whatever. However, I can hardly stand the idea of Emily leaving. Musically, she's the one who inspires me the most. I've played guitar all my life, dobro for about 6-7 years, & as soon as I came to after being knocked on the floor by Sin Wagon (lol), I went out & got a banjo.
Actually, I don't believe the "Emily's leaving" part of the story for 2 reasons.
1. In almost all of her interviews, she uses the word "longevity" when speaking of the Chicks' future.
2. In the recent (Chicks cover) issue of Country Weekly, they're quoted as saying that they all wan't kids, & that they'll get separate buses & the kids will travel with them.

The Chicks received 2 nominations for a British Country Music Awards show. One for best group, & one for best album.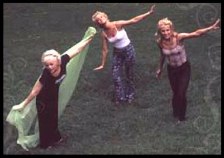 Dixie Chicks Planning North American Summer Tour ''Fly'' recently won Grammy for Best Country Album. by Mark Lewis LiveDaily Staff Writer

The Dixie Chicks will begin a 70-date North American tour starting in June, with plans to announce dates and venues at the end of March. The contemporary country group, whose current album "Fly" (Monument) won a Grammy for Best County Album, continues to find crossover success with a mainstream audience, as demonstrated by the rise of "Fly" to number eight on the upcoming March 11 Billboard Top 200 album chart. The album was at number 13 the previous week, and is still holding at number one on the Billboard Country Album chart, above Faith Hill's "Breathe" at number two. Quadruple-plantinum ''Fly'' sold 115,000 copies this past week, according to the group's publicist. The Texas trio's previous album, "Wide Open Spaces" (Monument), also moved healthily up the Top 200 charts this week from 61 to 48. The disc has been on the charts for 109 weeks. The group recently received five Academy of Country Music nominations for Entertainer of the Year, Album of the Year (for "Fly"), Top Vocal Duo, Country Video of the Year and Single of the Year (the latter two for the song ''Ready to Run''). CBS will broadcast the May 3 awards show live from the Universal Amphitheater in Los Angeles.




There'll be a tribute to the Chicks in stores in April.
Brian Sutton, who played on FLY & was a member of Ricky Skaggs' band "Kentucky Thunder", will be on the CD. I assume that means it'll be a Bluegrass CD. I also think it'll be a Bluegrass CD because it'll be called "Pickin' on The Dixie Chicks". There was another "Pickin' on.." tribute CD that, I believe, was Bluegass.

The song list is as follows:
1. Tonight The Heartache's On Me
2. Just A Bit Like Me
3. Wide Open Spaces
4. There's Your Trouble
5. You Were Mine
6. Let 'Er Rip
7. Shouldn't A Told You That
8. I Want To Be A Cowboy's Sweetheart
9. Ready To Run
10. Sin Wagon
11. I Can Love You Better
12. Cowboy Take Me Away

The ACM nominations came out the other day, the Chicks are up for 5 awards so don't forget to watch on March 3rd.

ENTERTAINER OF THE YEAR
Dixie Chicks
Faith Hill
Tim McGraw
Sawyer Brown
Shania Twain


ALBUM OF THE YEAR
Ride With Bob - Asleep At The Wheel
A Place In The Sun - Tim McGraw
Breathe - Faith Hill
Cold Hard Truth - George Jones
Fly - Dixie Chicks


SINGLE OF THE YEAR
"Amazed" - Lonestar
"He Didn't Have To Be" - Brad Paisley
"Please Remember Me" - Tim McGraw
"Ready To Run" - Dixie Chicks
"Write This Down" - George Strait


SONG OF THE YEAR
"Amazed" - Lonestar
"Breathe" - Faith Hill
"Choices" - George Jones
"He Didn't Have To Be" - Brad Paisley
"Please Remember Me" - Tim McGraw


VIDEO OF THE YEAR
"Breathe" - Faith Hill
"He Didn't Have To Be" - Brad Paisley
"How Do Ya Like Me Now?!" - Toby Keith
"Ready To Run" - Dixie Chicks
"Single White Female" - Chely Wright


FEMALE VOCALIST OF THE YEAR
Faith Hill
Martina McBride
Jo Dee Messina
Shania Twain
Chely Wright


MALE VOCALIST OF THE YEAR
Alan Jackson
Toby Keith
Tim McGraw
Collin Raye
George Strait


VOCAL DUO OF THE YEAR
Asleep At The Wheel
Brooks & Dunn
Dixie Chicks
Lonestar
Sawyer Brown


TOP NEW FEMALE
Jessica Andrews
Julie Reeves
Chalee Tennison


TOP NEW MALE
Gary Allan
Chad Brock
Brad Paisley


TOP NEW DUO/GROUP
Montgomery Gentry
SHeDAISY
Yankee Grey



Enterainment weekly had a small article on the chicks a week before the Grammys. Here's what it said: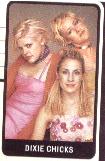 Best Country Album
- Asleep at the wheel, Ride with Bob
- Dixie Chicks, Fly
-Emmylou Harris, Linda Ronstadt & Dolly Parton, Trio II
- George Jones, Cold Hard Truth
- Alison Krauss, Forget About It

Survey Says: "Dixie Chicks by a mile. They have hats and breasts. The others aren't even close. They've sold a ton more records, and if you like country at all you're gonna love the Chicks." Who deserves it? "There is no doubt in my mind that George Jones should win. It's his best album in 15 years. It's also the best true country album by far. If Nashville can't vote for him out of the pure talent they ought to out of guilt for the way they've f---ed artists like him over the years. Look, if I had to place my money on it, it's going to be the Dixie Chicks. They've got Sony behind them, they've got success, they're the most well-known amongst voters who don't know country music. But, goddamn, the Jones album oughta win!"