New and old country both found success in 1998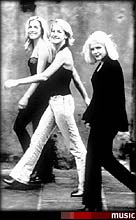 By RICK OVERALL

Ottawa Sun


Shania Twain was easily the biggest country music news in '98 even though you'd be hard pressed to truthfully describe her as "country" anymore.

Twain is sitting pretty after a year when she went out on the road and deftly scuttled all criticism hers was simply a studio-based phenomenon. After the soaring success of The Woman in Me, Twain refused to tour, citing the a strong selection of hits as a necessary requirement to keep the fans happy.

She was raked by the critics and even called "North America's highest paid lap dancer" by singer Steve Earle.

To her credit, Twain endured and with the added hits from her Dec. '97 release Come On Over, she kicked off North American tour in Sudbury in May.

As the year wore on, Twain's videos for From This Moment On and That Don't Impress Me Much brought country's queen even further into the mainstream.

Garth Brooks again made a sizeable impact as his CD Sevens -- with its traditional base -- became the No. 1 country disc of the year. The release of Brooks Limited Series box set stormed the charts and he ended the year by breaking all sales records by moving in a week more than 1 million copies of his Double Live disc.

Brooks was again named the Country Music Association's Entertainer of the Year as he wound up a two-year concert tour and added Female Vocalist of the year Trisha Yearwood to the bill for the final series of stops.

The single big breakout artists of '98 were the Dixie Chicks who adopted the Farmer's Daughter idea of hot contemporary imaging mixed with a sassy alt-trad country. The end result was the sale of 2 million copies of Wide Open Spaces.

While "new" country was still ruling the roost, the fact Brooks had success with songs such as Long Neck Bottle opened the door for more traditional artists to grab some limelight.

One such success story is Vince Gill's The Key. Arguably the best collection of songs Gill has ever produced, the disc mined 1950s and '60s Nashville elements that made it soar above the crowd.

He was joined by Lee Ann Womack, whose brilliant Some Things I Know proved a contemporary female artist can pump life into an older-style of country.

Also, hats off to Reba McEntire who realized her tour pairing with Brooks & Dunn could blossom on CD as the two acts combined for the simultaneous release of If You See Him/If You See Her.

Again this year husband- and-wife team of Faith Hill and Tim McGraw scored with individual CDs and concert appearances as did long-time superstar George Strait.

And living legend Willie Nelson made us all sit up and take notice as his Daniel Lanois produced Teatro took its place as one of the very best releases of this, or any, year.

Canadian country remained a strong element of the equation with Terri Clark's ongoing success and strong recorded work heading the non-Shania list.

Paul Brandt impressed with his growth as a live performer and Lisa Brokop and Tracey Brown both returned with strong CDs.

Stompin' Tom Connors again defied the marketing odds by launching a huge Canadian tour and releasing a wealth of greatest hits and catalogue material. The warm reception of both live dates and CD sales proved he still is a force to be reckoned with.

A special note of congratulations goes to long-time Ontario favourites The Wilkinsons who became a household word on the strength of the family oriented single 26 Cents.

Locally, the rallying cry of Randall Prescott spearheaded the Power Aid concert at the Corel Centre into a successful example of how our local fans and a bevy of Canadian musicians could thank the heroes and help the victims of January's devastating ice storm.

Looking ahead, the two biggest events on the slate for '99 in Ottawa have to be the arrival in March of Twain and then in September the city will play host to the Canadian Country Music Week.

Finally, let's never forget the massive contribution Tammy Wynette made to country music.